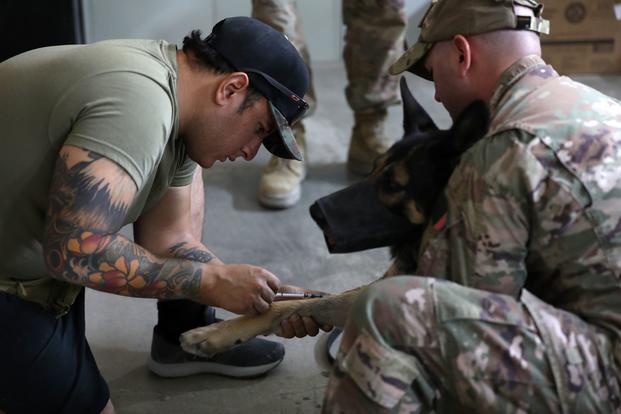 Military.com | By Richard Sisk
U.S. troops have drawn blood from the military working dogs in Iraq, tested it and determined their blood type. That sets up a "walking blood bank" for dogs injured in the line of duty, such as Conan, the Belgian Malinois who participated in the raid last year that resulted in the death of ISIS leader Abu Bakr al Baghdadi in Syria.
"Military working dog handlers in Iraq recently started a mobile blood bank for working dogs," Operation Inherent Resolve, the U.S.-led coalition to defeat the Islamic State in Iraq and Syria, said Wednesday in a Twitter post.
Read Next: Fort Bragg Now Admits its Twitter Account Wasn't Hacked
The prescreened donors, first reported by Stars & Stripes, are believed to be a first for the dog handlers and their K9s in the region.
"The bank will allow for rapid treatment of injured working dogs" in the field, who are subject to the same risks as the troops they support, including heat exhaustion, OIR said.
In June, Cvoky, another Belgian Malinois, was transferred by medevac from Prince Sultan Air Base in Saudi Arabia to Camp Arifjan in Kuwait to be treated for heat exhaustion.
Cvoky, an Air Force working dog, received blood from a Navy working dog and quickly recovered, Stars & Stripes reported.
Conan was credited with chasing al-Baghdadi down a tunnel where he detonated explosives to kill himself in the nighttime raid into Syria by special operations units on Oct. 27, 2019, according to U.S. Central Command.
Marine Gen. Frank McKenzie, the CENTCOM commander, said later that Conan was injured by live electrical wires during the raid but had recovered. Much of the information on the raid has been classified and it is not known whether Conan had received a transfusion.
On Nov. 25, 2019, Conan made a surprise appearance in the White House Rose Garden with President Donald Trump, Vice President Mike Pence and first lady Melania Trump.
"The dog is incredible. Actually incredible," Trump said at the event.
"We spent some good time with it. So brilliant and so smart," he said, adding that Conan was the "ultimate fighter."
— Richard Sisk can be reached at Richard.Sisk@Military.com.
Related: Navy Working Dog Donates Blood to Save Air Force Canine Colleague
Related Topics
Military Headlines Military Dogs
military.com